Advanced Dental Services & Technology – Novi, MI
Incorporating a More Modern Approach to Dentistry
Time doesn't stop when it comes to the dental field. Things are constantly changing, as is dental technology. This is why we incorporate advanced solutions to make the dental patient experience more enjoyable and comfortable. With a cavity detection system that is used to pinpoint decay early on, digital impressions for less mess, and even a cone beam scanner to enhance images of your oral and facial structures for greater treatment planning, we create a more cohesive and seamless approach to dental care.
Committed to State-of-the-Art & Comfortable Dental Experiences
Early Detection of Cavities
Mess-Free Tooth Impressions
Better Patient Education
Intraoral Cameras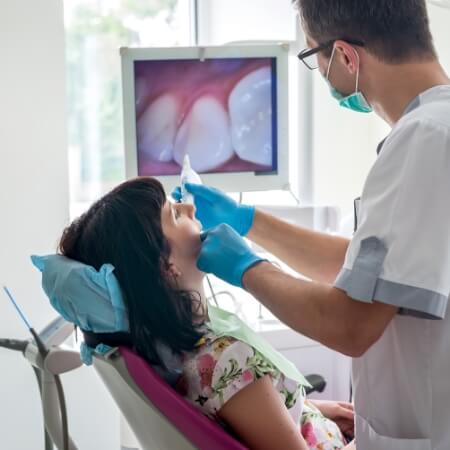 Ever feel left out because you can't see what it is your dentist sees? It can be difficult to grasp the severity of a cavity or another serious problem when you can't see it for yourself. All of that has now changed thanks to intraoral cameras. Using these camera-tipped, handheld devices, we can scan the inside of your mouth, capture images, and have them projected onto a nearby screen for you to view in real-time. This allows us to better explain the situation inside your mouth while also educating you on the reason and importance of treatment.
All-Digital X-Rays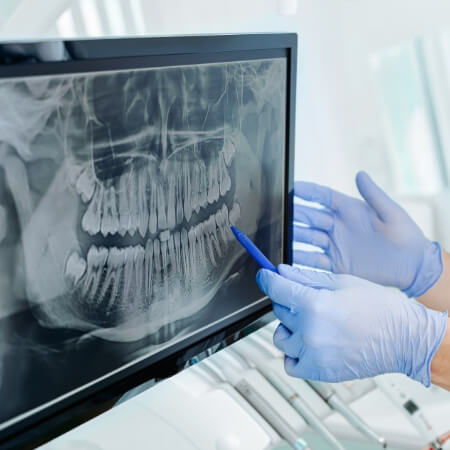 Traditional radiographs are no longer necessary now that we have all-digital X-rays. Designed to produce higher-quality images in less time, they emit far less radiation and are safe to use on both children and adults. And because it doesn't require a long time spent in a darkroom for development, you can move through your appointment quicker than before.
3D Cone Beam Imaging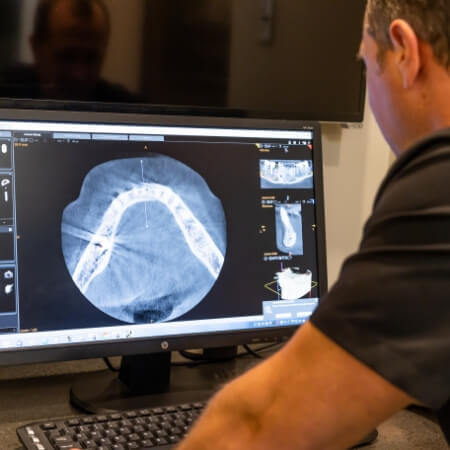 The Carestream CBCT Cone Beam Imaging System is high-tech and capable of producing high-resolution images that showcase your teeth, gums, bones, tissues, nerves, and other sensitive oral and facial structures. Within minutes, the hundreds of images taken by the CBCT scanner come together to create a 3D model of your oral anatomy. This is then used to prepare treatment plans for dental implant placement and other complex solutions.
Digital Impression System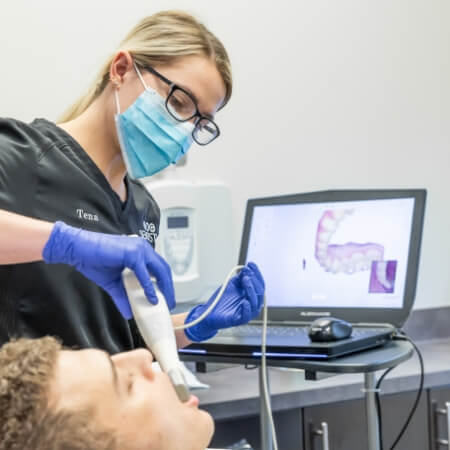 Our Trios 3 Shape and iTero Element 2 digital impression system eliminates the need for cold, messy dental putty. Instead, you can feel comfortable and confident that the images captured will take less time and produce more accurate and precise impressions so that lab technicians can easily create your customized dental restoration.
Soft Tissue Laser Dentistry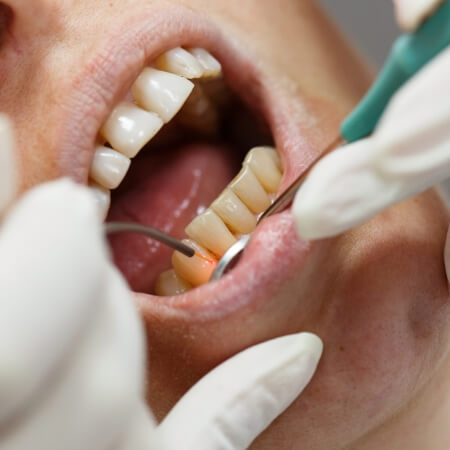 Our Picasso laser is one of the best on the market. Capable of moving through soft oral tissues with ease, this device targets excess gum tissue to help create more balanced and uniform smiles. Also, the laser cauterizes while it cuts, so there is minimal bleeding, inflammation, and a reduced risk of infection.
The Wand™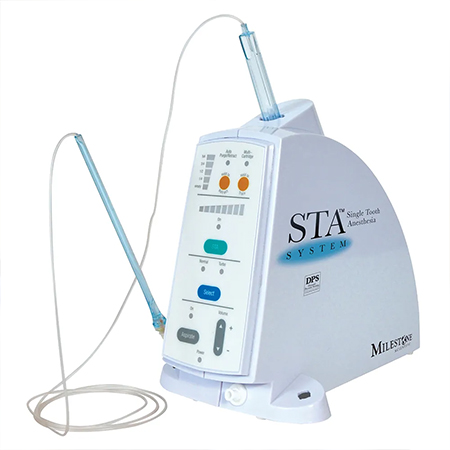 Hate needles? You're not alone. Many patients would prefer to avoid the dentist than have one placed into the mouth. Fortunately, with the help of The Wand, the device gently applies a numbing agent so that you won't feel the needle when it enters your soft oral tissues. It creates a more comfortable and less anxiety-inducing situation for patients of all ages.
Cavity Detection System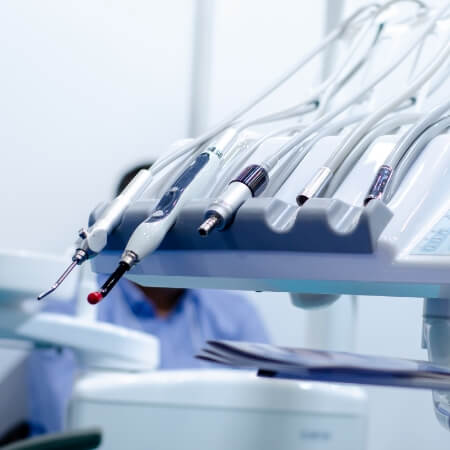 Our DIAGNOdent cavity detection system is truly unique. Instead of relying on visual examinations and X-rays to pinpoint problem areas of decay, we can incorporate the use of the DIAGNOdent system. Highlighting areas of the mouth that show even the smallest amounts of decay allow our team to get right to work to address the problem before it worsens.
Florida Probe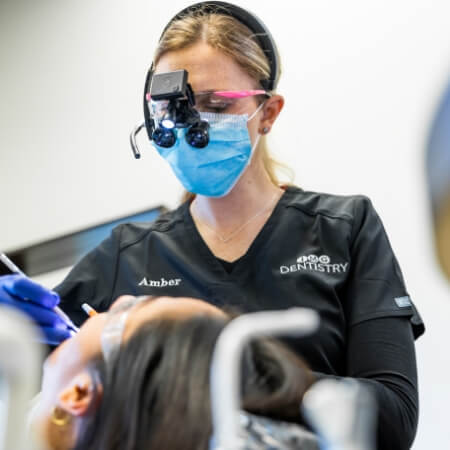 Measuring the spaces between your teeth and gums (called periodontal pockets) is one of the easiest ways to monitor your oral health over time, as an increase in size or presence of bleeding can point to a variety of problems. The Florida Probe allows us to measure what we need manually, and then convey the data using voice commands so that it is recorded by the associated software, all while keeping our hands in place on the patient. This enables us to work much faster, create a more accurate digital record, and easily spot even the smallest changes.
SprintRay 3D Printer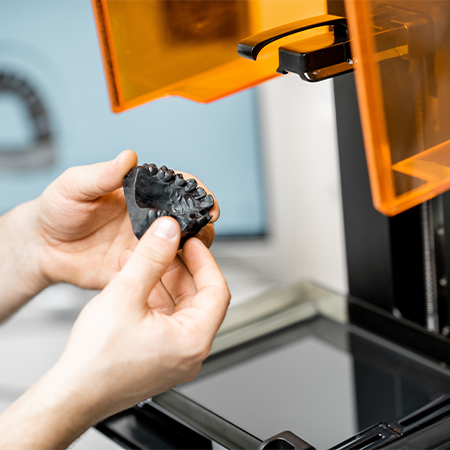 We can now fabricate our own mouthguards, temporary dentures, surgical guides, wax mockups, and more in-house using our 3D printer. This cuts out the need for an outside lab, so our patients are able to get what they need in much less time. Plus, we can make any final adjustments to whatever is produced ourselves, guaranteeing a perfect fit without having to send something back to the lab.