Meet Our Dental Team – Novi, MI
Faithful, Experienced, & Committed
It's not often that you'll find a dental staff so committed to the field of dentistry and the dental office. We are pleased to be a long-standing group of dental team members who believe in the mission and vision of JMG Dentistry Family and Cosmetic Care. It is our goal to make every dental patient feel like a member of the family, and we do this with the help of our administrative staff, dental hygienists, and dental assistants. To learn more about who you'll meet when you arrive, read our bios below.
Natasha, Front Desk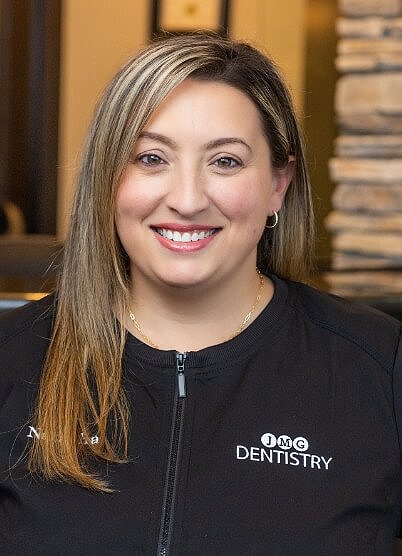 For nearly a decade, Natasha has been the friendly face you see when you first enter our dental office, but she has a quarter century of experience in the field of dentistry. She attended Oakland Community College as well as Oakland University and even studied at a dental assisting school for a year and a half while still in high school.
Natasha and her husband Frank have been married for 15 years and counting, and they have two children. In her free time, she enjoys reading, cooking, and watching TV shows like Little House on the Prairie and Real Housewives. She has also recently developed a love of seafood!
Kara, Dental Hygienist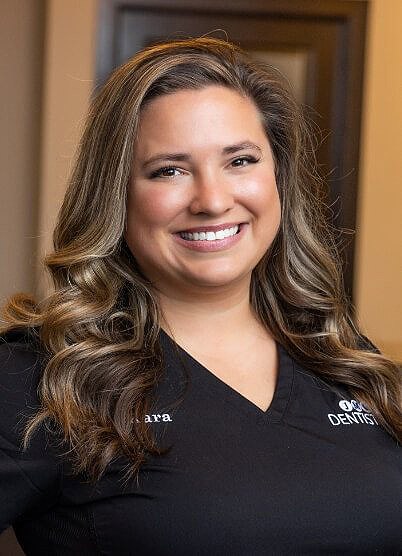 Kara has nearly two decades of dental experience, more than half of which have been right here at JMG Dentistry Family and Cosmetic Care. She was initially drawn to the dental field at age twelve when she accompanied her father to some of his appointments for a major jaw surgery he had, and the rest is history! After working as a dental assistant in a pediatric dental office, Kara studied dental hygiene at Owens Community College. She is also an expanded functions dental assistant and is CPR-certified. Today, she loves being able to make patients feel comfortable and change their smiles for the better.
Kara has been married to her husband Randy for eight years. They have two sons: Owen and Avery. Outside of the dental office, Kara loves reading thriller novels (Colleen Hoover is her favorite author) and spending time outside in general. She has become quite the gardener in recent years! She enjoys sitting on the porch with her husband watching their boys ride bikes, as well as camping up north, dancing, having brunch with friends, watching hockey, and going for motorcycle rides.
Heather, Dental Hygienist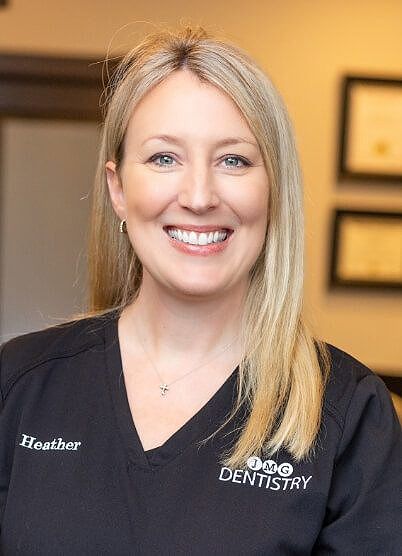 As a child, Heather loved going to the dentist and getting her teeth cleaned, and she loves helping people, so deciding to become a dental hygienist was a no-brainer! She completed her dental hygiene training at Ferris State University before obtaining her local anesthesia license at the University of Detroit Mercy. All of her 18 years of experience in the dental field have been spent in our dental office.
Heather has two beautiful children with her husband, to whom she has been married for 15 years. As a family, they love to watch movies, have game nights, travel, snow ski, and go camping, especially around the Great Lakes. Heather also enjoys watching her kids play their sports (soccer, basketball, and cheerleading), planting flowers, baking cookies, and crafting. One fun fact about Heather is that she's a licensed manicurist – she actually went to beauty school before studying dental hygiene!
Amber, Dental Hygienist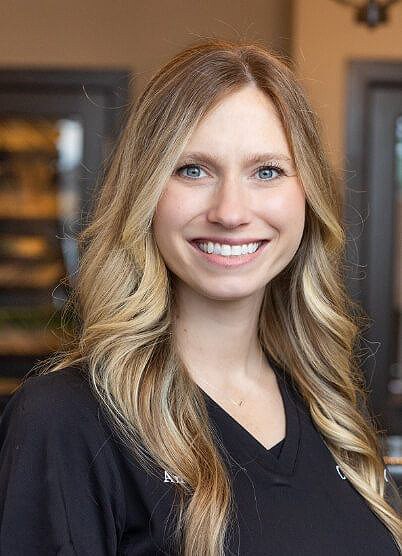 Amber decided she was going to be a dental hygienist at the age of twelve, and now, ten years into her career, she still truly loves coming to work every single day! She particularly enjoys educating patients on the importance of good oral health and its connection to overall health. She attended Wayne County Community College and the University of Michigan. At the latter, she did a semester of student teaching, where she trained hygienists on a software program for hands-free charting. She is also certified in local anesthesia and nitrous oxide.
Outside of the dental office, Amber is passionate about golf. She has been married to her husband for three years, and they have a one-year-old daughter. She enjoys spending her free time traveling, going out to dinner, cooking, exercising, and just hanging out with her family.
Jenna, Dental Hygienist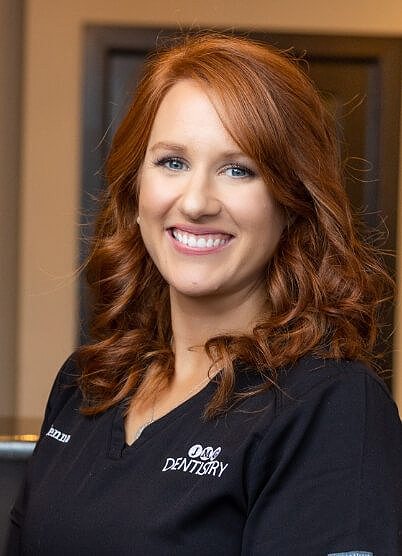 Jenna's passion for dentistry was kickstarted in high school as she watched her grandfather lose his battle with oral cancer. She believes that regular dental visits could maybe have prevented it, which is why she is dedicated to educating her patients about the importance of oral health and how it impacts overall wellness. Additionally, she likes building relationships with patients that make them excited to come in for their appointments! Jenna has a full decade of experience in the dental field; she completed her hygiene training at Delta College and is certified in nitrous oxide, local anesthesia, and CPR/basic life support in case of emergencies.
Away from the dental office, Jenna loves doing DIY craft projects and customizing her home, as well as baking, crocheting, and spending time with her family. She and her husband Darren have been married for eight years so far and share four beautiful young children: Ryker, Grace, Madelyn, and Hallie. Jenna can often be found cheering her kids on at their sporting events.
Meena, Dental Hygienist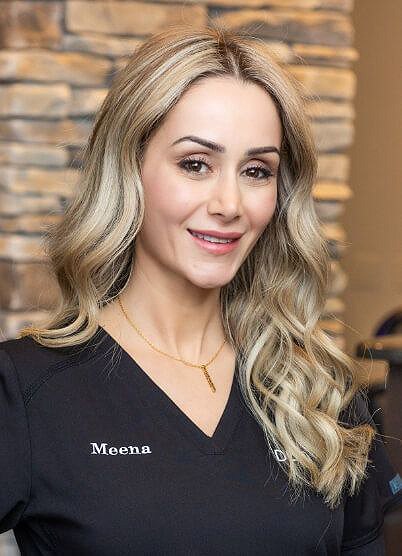 Meena has worked in the field of dentistry – and at our dental office – for more than eight years so far. She chose to pursue a career in dental hygiene because of her passion for helping people. Also, she finds it rewarding to help patients understand the value of great oral health and how it can affect overall health. After attending Oakland Community College, she completed the dental hygiene program at Baker College.
For the past 17 years, Meena has been happily married to her husband Ronny. They have three children: Ashley, Zack, and Joshua. In her spare time, Meena enjoys drawing, listening to music, dancing, and doing fun outdoor activities with her kids.
Noura, Dental Hygienist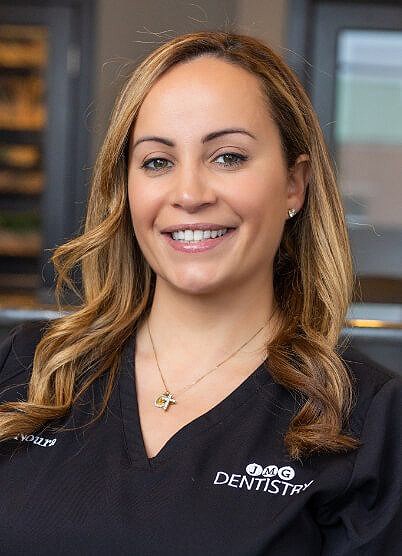 Of Noura's 20 years in dentistry, 15 have been spent as part of our JMG Dentistry Family and Cosmetic Care team. She treasures being able to care for so many amazing people every day. She originally worked as a dental assistant before switching to hygiene so that she could help patients learn to take excellent care of their smiles, as well as overcome any fears they have about dental care! A graduate of Oakland Community College, Noura is certified in nitrous oxide and local anesthesia.
Noura has been married for 14 years and has been blessed with three amazing kids and a dog. Other than dentistry, Noura's hobbies include cooking, gardening, and spending quality time with her family and friends. Something you may not know about Noura is that she's bilingual!
Karen, Dental Hygienist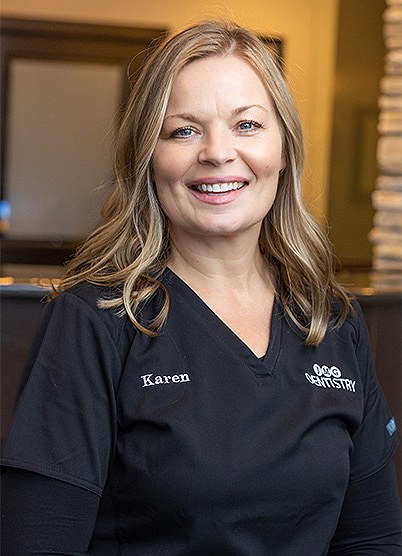 Karen has been a part of the dental world for more than 15 years, and she loves that her day-to-day revolves around getting to know our patients while educating them about their oral health. She attended the Detroit College of Business and Schoolcraft College before completing her hygiene training at the University of Michigan.
Life at home is delightfully busy for Karen thanks to her husband and their twin teen boys. In her free time, she likes to work out, go camping, play board games, and thrift shop.
Alyssa, Dental Assistant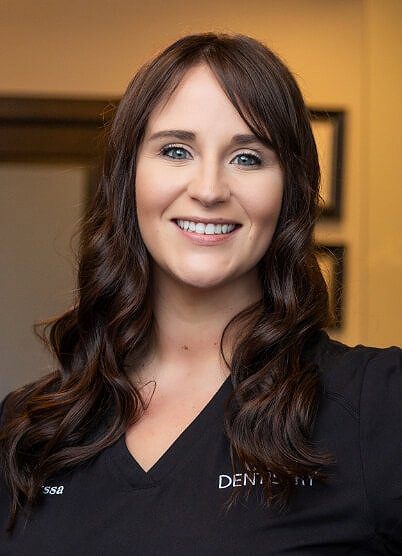 Alyssa has worked in the dental field for a decade now and at JMG Dentistry Family and Cosmetic Care for eight of those years. The other members of our team are like family to her. It brings her joy to assist with smile transformations and see a patient's reaction afterward when they view their new and improved smile for the first time! Alyssa first attended Ross Medical Education Center to study nursing but quickly realized that dentistry was a much better fit for her.
Alyssa has been married to her husband RJ for seven years, and they have two daughters: Emerie and Ellisyn, aged six and one. When Alyssa isn't at the dental office, she enjoys spending quality time with her family, including traveling, hiking, and going to the beach or pool. When she has the time, she enjoys watching TV, cooking (but not baking), and growing her own vegetables in her garden.
Angela, Dental Assistant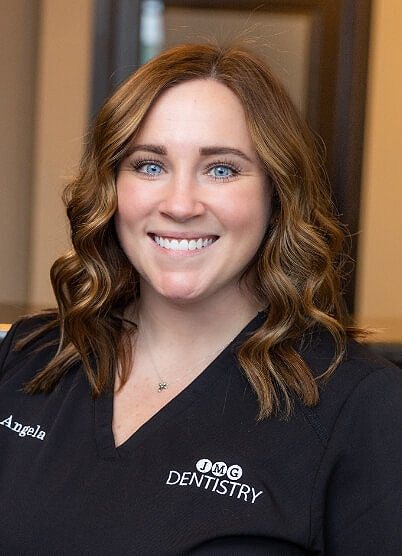 Angela has been part of our team for a handful of years now, and she couldn't be happier to work with such an amazing team and patients! She has always loved everything dentistry - she even used to do school projects about the dental field. Having a nice smile has always been important to her and helping others with theirs is incredibly rewarding! She attended Ross Medical Education Center and is certified in dental X-rays.
Angela and her husband Josh have been married for 14 years. They have two kids: 15-year-old Leah and 12-year-old Landen. They also have two dogs named Rey and Raven. Most of Angela's free time is spent watching her kids play hockey, volleyball, or tennis. In the winter, they put a huge ice rink in their backyard!
Angel, Dental Office Administrator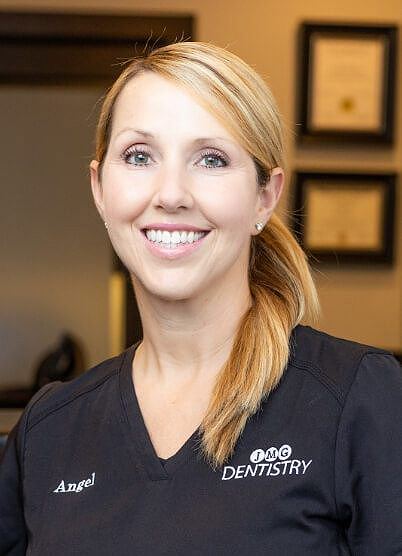 Angel was working as a wedding coordinator until she and Dr. Geller opened JMG Dentistry Family and Cosmetic Care all the way back in 2004. She had to learn about the dental world on the spot, attending courses at the Chicago Midwinter meetings in order to develop and improve her approach to five-star customer service. Today, having been a part of the dental world for nearly two full decades, she still looks forward to interacting with patients each and every day. She considers many of them to be family!
At home, Angel is happily married to Dr. Geller, and they have two beautiful daughters and a Goldendoodle named Aspen. As for hobbies, she spends her free time traveling, gardening, landscaping, trying new foods, and enjoying the outdoors. Her daughters play soccer, and watching them is always fun too.