Dental Implants – Novi, MI
A Modern Solution to Tooth Loss
The modern dental implant treatment we know today has been nearly perfected over the last several decades, boasting an impressive 95 percent success rate and allowing dental patients to restore not just the look of a smile, but also the feel of it. Dr. Geller offers a variety of dental implant-retained dental restorations to address different tooth loss situations and custom-tailors each of his tooth replacement treatment plans to his dental patient's individual needs. To learn whether you'd be a good candidate for this procedure, schedule a consultation with us today to discuss tooth replacement with dental implants in Novi, MI!
Why Choose JMG Dentistry Family and Cosmetic Care for Dental Implants?
In-House Dental Implant Placement & Restoration
CBCT Scanner for Optimal Treatment Planning
Dentist with Years of Experience
What are Dental Implants?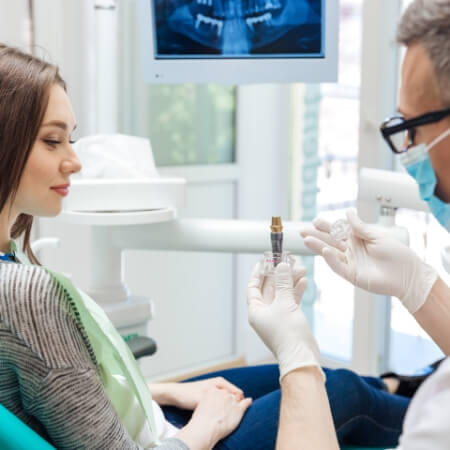 Dental implants themselves are small titanium posts that are surgically placed below the gumline and into the jawbone to provide a strong and secure foundation for dental restorations to be attached to. Because titanium is a biocompatible material, they're able to chemically fuse with the jawbone through a process called osseointegration, allowing them to function just like your natural tooth roots do.
The 4-Step Dental Implant Process
The Initial Consultation. During the initial consultation, Dr. Geller will capture X-rays and a cone beam CT scan of your mouth and facial structure to determine whether you're a good candidate and create a treatment plan. After presenting you with a plan customized to address your unique needs, our team will schedule your surgery.
Dental Implant Surgery. In most cases, Dr. Geller can perform the dental implant surgery himself, meaning you won't have to worry about traveling to another provider in the middle of the process.
Osseointegration/Abutment Placement. Once the implants are placed, they'll undergo a process called osseointegration, where they fuse with the jawbone. After this is complete, we'll attach small metal connector pieces to the top of the implants, called abutments.
Attachment of Restorations. After your restoration has been crafted, we'll secure them to the abutments that are connected to the dental implants, completing the process.
Benefits of Dental Implants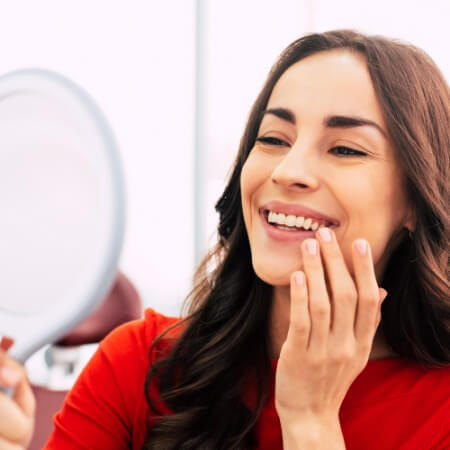 Dental implants have a variety of benefits that set them apart from traditional tooth replacement procedures, including:
Lifespan of 30+ years with the proper maintenance
Little to no limitations on what you can eat with your new replacement teeth
Easy to care for
Prevent jawbone deterioration by stimulating the jawbone
Prevent facial structure change over time
Look and feel identical to natural teeth
Who Can Dental Implants Help?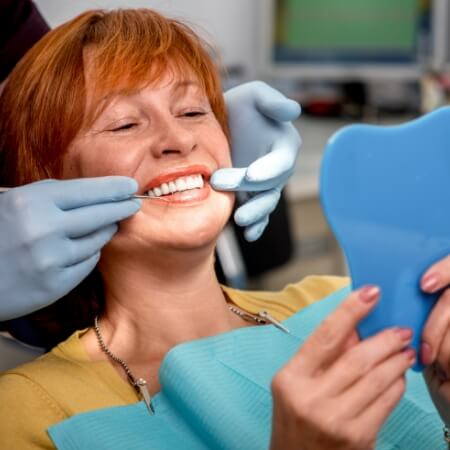 While dental implants aren't the ideal solution for every patient dealing with tooth loss, this versatile treatment may be a great option for you. The best way to find out is to schedule a consultation with Dr. Geller and discuss all of your options. We may recommend getting dental implants in Novi if you're in any of the following situations and have adequate jawbone support, good oral hygiene, and no untreated autoimmune conditions that could impact your body's healing ability after surgery.
Missing Single Tooth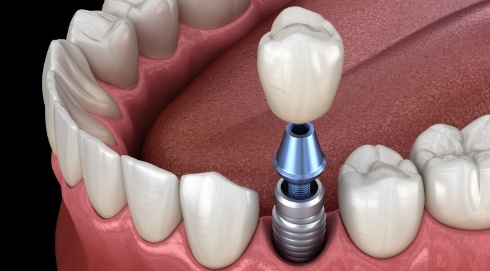 To replace a single tooth, we'll secure one dental implant below the gumline and into the jawbone and attach a dental crown to it to fill in the gap between teeth.
Missing Multiple Teeth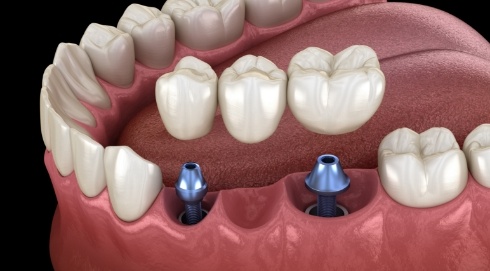 To replace one or more consecutive teeth, instead of needing to alter your natural teeth to secure a bridge, we can place two dental implants on either side of the gap in your smile. These will act as the foundation of your restoration.
Missing All of Your Teeth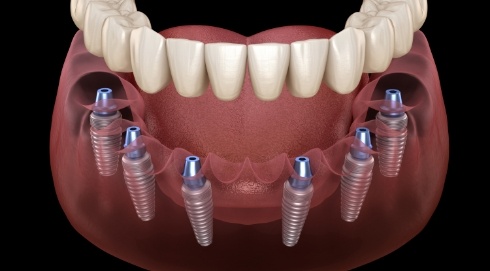 To replace an entire arch of your teeth, we can secure anywhere from four to eight dental implants along your gumline. These will hold a full denture in place, eliminating the need for denture adhesive and any chance of slipping or shifting restorations.
Understanding the Cost of Dental Implants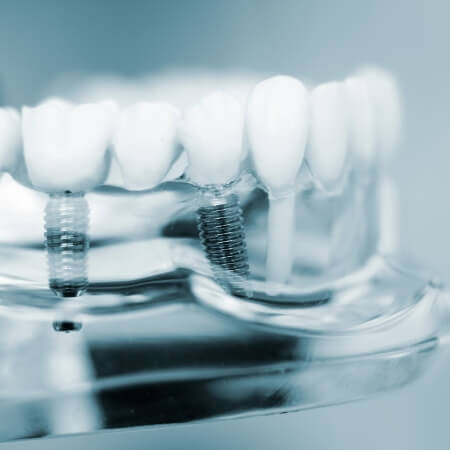 The cost of your dental implant treatment will depend on a variety of factors, like how many teeth you're looking to replace, what type of materials your restorations will be crafted from, whether you require dental sedation, etc. We'll be sure to discuss all of these details with you during your initial consultation and present a detailed cost estimate, so you know exactly what to expect. We're also happy to verify any benefits you may have through your dental insurance; however, many plans don't cover the cost of the implants themselves.
Dental Implant FAQs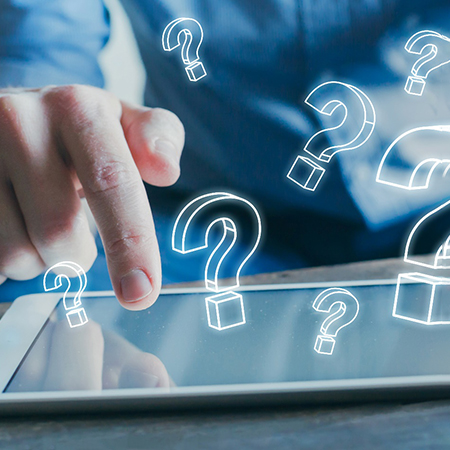 The information on this page can help give you an idea of how dental implants work and what the process will look like. However, you might still have a few questions regarding the treatment. Our team is filled with helpful individuals who want you to have a smooth dental experience, so please contact us right away if there's anything you would like to know about dental implants. Here are some useful answers to a few implant questions that we often get.
Are Dental Implants Safe?
Dental implants as we know them today have been in use for decades, and they are a highly successful solution for tooth replacement. As long as your mouth is healthy and the procedure is performed by a trained professional, dental implants are a safe option.
There are certain conditions that could increase the odds of complications occurring before or after your surgery; for example, diabetes could slow down the healing process and put you at risk for infection. When you come to our office for a dental implant consultation, we'll ask about your medical history to see if there are any health issues that we need to be concerned about.
Am I Too Young to Get a Dental Implant?
You can only get dental implants once your jaw has stopped growing, as placing them too soon could cause problems with the development of the bone. As such, many dentists will only consider dental implants for patients who are at least 18 years old. Even then, the minimum age isn't the same for everyone; sometimes it might take until the mid-twenties for the jawbone to finish growing, and the process tends to take longer for men.
Before we schedule your dental implant surgery, we'll examine your jaw to make sure that it's ready for the procedure.
Do Dental Implants Decay?
Dental implants may be similar to your real teeth in several ways, but there are a few differences. One of the biggest is that dental implants, being made out of artificial materials, do not decay. Of course, the same will not hold true for your remaining natural teeth, and gum disease can still affect the tissues around the implant posts. In other words, even though you don't have to worry about cavities on your dental implants, you will still need to stick to a thorough oral hygiene routine.
How Soon After a Tooth Extraction Can I Get Dental Implants?
Every mouth is different, so some patients can expect more of a wait than others between tooth extraction and implant placement. Sometimes you might be able to get your implants right away while in other cases the procedure is only performed once the mouth has healed, which can take three to six months.
We'll be able to give you a more specific timeline after we have examined your jawbone and considered your unique circumstances. Additionally, we can give you instructions for making sure the recovery process after tooth extraction goes smoothly so that you don't have to wait longer than necessary to get your implants.