Sedation Dentist – Novi, MI
Feel Comfortable at Each Visit
If you can't shake a feeling of fear, anxiety, or frustration at the thought of coming in for a treatment or your biannual dental checkup and teeth cleaning, call us beforehand and we'll do whatever we can to help you feel relaxed and at ease in the treatment chair. Our kind and skilled dental team and gentle sedation dentist in Novi, MI offer nitrous oxide sedation dentistry in-office to make each of your necessary visits less stressful and taxing on your mental and physical health.
Why Choose JMG Dentistry Family and Cosmetic Care for Sedation Dentistry?
Dental Insurance Welcome
We See Patients of All Ages
Compassionate Dental Team That is Here For You
Nitrous Oxide Sedation Dentistry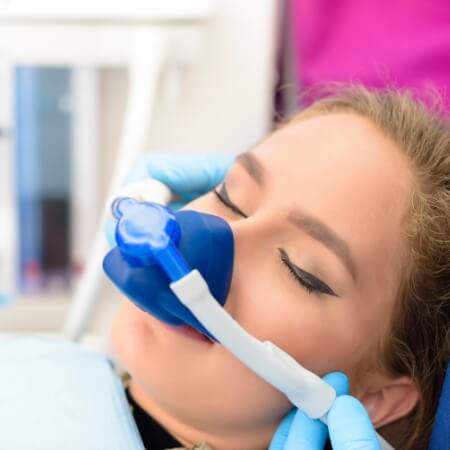 Nitrous oxide is a fast-acting method of sedation that we administer once you get comfortable in the treatment chair. We'll place a small nose mask on you that will allow you to breathe in a colorless, odorless gas. Within a few seconds, you'll feel a calming wave wash over you. Once your treatment is complete, we'll have you breathe in oxygen until the effects of the sedation have worn off and you can go home.