Dental Crowns – Novi, MI
Natural-Looking Restorations for Beautiful Smiles
Tooth enamel is the hardest material in the human body – it's even harder than bones! However, that doesn't mean your teeth are indestructible. From accidental physical injury to years of poor oral hygiene, your pearly whites are still at risk of becoming damaged or decayed. Luckily, we offer an effective solution to help rebuild a functional, healthy, and beautiful smile: dental crowns. At JMG Dentistry, we can easily repair your grin with these custom-made restorations! To learn more about this restorative treatment, continue reading or give us a call.
What Is a Dental Crown?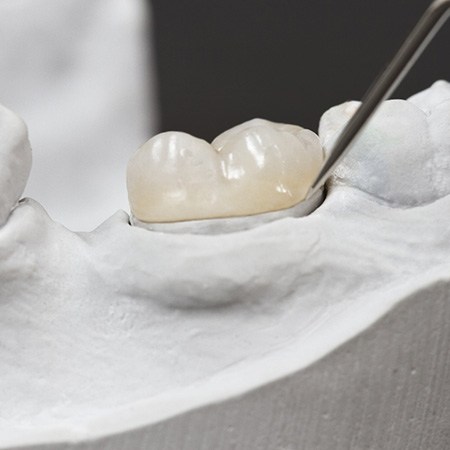 Also known as a "cap", a dental crown is a three-dimensional restoration that protects and covers a weakened tooth. They're used to restore the damaged area's structure, function, and appearance. Not only is it an incredibly durable solution, but it's an attractive replacement that functions just like natural teeth.
Dr. Geller typically recommends it for patients who have one (or more) of the following:
A severely decayed tooth with a filling that needs support
Dental fracture in need of strength and stability
A follow-up to a root canal
A dental bridge that needs to be anchored in place
Tooth loss requiring dental implant treatment
The Process of Getting a Dental Crown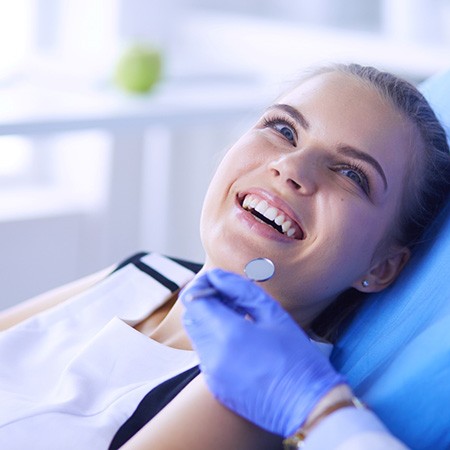 Getting a dental crown in Novi is a simple process that usually only takes about two appointments.
First, you'll have a consultation with Dr. Geller to determine whether or not this restoration is the best option for you. At your appointment, he will inquire about your smile goals, oral health needs, and medical history. Our team will also decide if you need to undergo preventive work before the procedure.
Once you're ready to proceed with treatment, we'll prep your teeth by removing a thin layer of enamel. Doing this will ensure the crown lays flush with surrounding teeth when it's attached. From there, we'll get an impression to make your final prosthetic. While you wait for that to be created, you'll wear a temporary crown to protect your exposed smile in the meantime.
You'll return to our office for a final appointment once your crown is ready. We'll place it and make any necessary adjustments. Afterward, we'll brief you on how to care for your new restoration.
Benefits of Getting a Dental Crown
Dental crowns are one of the most common treatments we perform here at JMG Dentistry – and it's easy to see why! There are many benefits to repairing your tooth with this reliable restoration, such as:
Improved function and appearance of a damaged tooth
Prevent the need to extract a tooth later
Protect the compromised tooth from further damage or decay
Lifespan of 15 years or more with proper maintenance
Natural-looking materials that blend seamlessly with remaining teeth
Custom fit to ensure optimal results
Dental Crown FAQs
Dental crowns in Novi are regularly used to rehabilitate compromised teeth. They are supported by generations of success, but a crown is a big investment. Don't worry if you have a few concerns. Dr. Justin Geller will explain everything during your initial consultation. While you wait for your appointment, here are the answers to the most frequently asked questions about dental crowns.
Are Dental Crowns Permanent?
A dental crown isn't permanent because it needs to be replaced, eventually. However, dental crowns aren't reversible either. Your tooth must be reshaped to allow the restoration to fit over it. It will cover the entire surface of your tooth above the gum line. If the crown is removed, your tooth won't grow back. It will be vulnerable to damage, bacteria, and infections if it isn't covered.
Does It Hurt to Get a Dental Crown?
Your dentist in Novi, Dr. Geller, keeps every patient's comfort his top priority. Depending on your treatment plan, a local anesthetic can be used to block any pain signals. You won't have any discomfort while in the dentist's chair; however, you may feel some unusual sensations or pressure. After the effects of any numbing agents wear off, your mouth may be tender for a few days. You can manage it using an over-the-counter pain reliever and eat soft foods until your discomfort improves. Dr. Geller may have additional aftercare instructions, depending on your situation.
How Long Do Dental Crowns Last?
A dental crown can last for 10 years or more, but many factors affect the lifespan. The location of your crown can influence its life expectancy. Back teeth undergo more pressure than those in the front. Therefore, crowns used on molars can have a slightly shorter lifespan than those on front teeth. Not to mention, the materials used will also affect the duration of your results. You can get the most from your investment with good oral hygiene habits. Besides brushing and flossing, don't forget to schedule a cleaning and checkup every 6 months. You can ensure your crown lasts for a decade or longer by avoiding hard or chewy foods. Break any bad habits that may damage your restoration, like grinding your teeth or chewing ice.
Does Teeth Whitening Work on Dental Crowns?
Crowns are made of all-ceramic materials, which aren't porous, like your enamel. As a result, whitening treatments don't have any effect on their color. Whitening agents can also weaken the bonding material holding your crown to your tooth, which may cause it to fall off. Thankfully, crowns are stain-resistant, so you shouldn't have to worry about it changing color over time. If your natural teeth discolor, Dr. Geller can create a personalized plan to revamp your pearly whites.
Can I Use My Dental Insurance for a Crown?
Your dental insurance may cover your consultation, diagnostic services, or preliminary procedures. If your crown is medically necessary, your insurance can pay some of the expenses after meeting your annual deductible. A member of our team will work on your behalf with your dental insurance to maximize your benefits to lower the amount you will pay out-of-pocket.