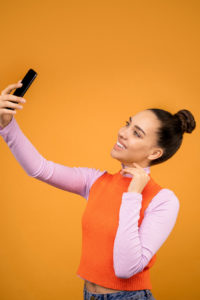 Everywhere you turn, it may seem like you're surrounded by flawless smiles, even when browsing TikTok and other online platforms. Many popular social media influencers have stunning teeth, like Huda Kattan, Tana Mongeau, and Gigi Gorgeous. Did you know that their memorable smiles aren't natural? They transformed their teeth using porcelain veneers. You don't have to be rich or famous to invest in a red-carpet smile. Here is how you can achieve a picture-perfect smile without needing extensive dental work.
The Power of an Attractive Smile
You can't put a price on the benefits of having a pleasing smile, but it doesn't come naturally for everyone. Besides genetics, years of wear and tear, poor oral hygiene, or other factors can lead to aesthetic imperfections. No matter the cause, insecurities about your teeth can affect your self-esteem. It can also influence how others view you.
Researchers have found that a person with attractive teeth is viewed as young, confident, and successful. Investing in cosmetic dentistry will ensure your smile is giving the right impression and give your confidence a boost.
How Do Veneers Work?
There are more options than ever before to address common imperfections, but porcelain veneers continue to be a popular choice. Applying a veneer to the front side of a tooth improves its color, size, and shape. However, bonding veneers to the teeth visible when smiling corrects multiple imperfections at once, like stains, chips, and gaps. You won't require several procedures or invasive treatments to reach your goals. After just two appointments, you can have a dazzling smile that can last for a decade or more.
Benefits of Porcelain Veneers
Porcelain veneers are a great option for people from all walks of life because they offer various advantages that aren't possible using other methods, like:
Natural-Looking Results: Veneers are made of porcelain, which closely resembles enamel, to create natural-looking results. Porcelain allows veneers to be thinner than ever, so they won't look or feel bulky on your teeth.
Minimally Invasive Procedure: Since veneers are thinner, less enamel is removed during the application process to maintain more of your tooth structure. This makes the procedure less invasive to enjoy quick results without a long recovery.
Correct Many Issues Quickly: You won't have to worry about a long, complex process to achieve the results you want. You can save time and money with veneers.
Feel Like Real Teeth: Each veneer is carefully crafted to fit your tooth like a glove. It may take a couple of days to get used to wearing them, but in no time at all, you may soon forget they aren't part of your real teeth.
Long-Lasting Results: The average lifespan of a veneer is about 10 years, but it's not unusual for them to last for much longer with the correct aftercare, like brushing and flossing.
It's never too late to revamp your pearly white. Your cosmetic dentist can turn the smile of your dreams into reality with veneers.
About Dr. Justin Geller
Dr. Justin Geller earned his dental degree from the University of Detroit and has regularly continued his education in many specialties, including cosmetic dentistry, Invisalign, and dental implants. He strives to create healthy, beautiful smiles using the latest innovations in dentistry. Request an appointment through his website or call (248) 926-4030.