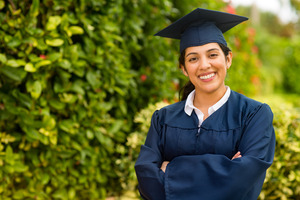 When you or one of your loved ones finally graduates, it's always an event worth celebrating. Plenty of families head out to fancy restaurants or hold their own parties after the ceremony. But there are other ways to commemorate the occasion as well. A beautiful smile often makes for a great gift – especially for someone who is getting ready to take the first steps in their career. Find out more about the benefits of cosmetic dentistry and how it can be a great choice for graduates.
How Cosmetic Dentistry Can Enhance a Graduate's Grin
If you ask your dentist what cosmetic services they offer, they're likely to provide a wide range of options. Here are just a few examples of how graduates can improve their smiles with the right cosmetic treatment:
Thin enamel-colored shells called veneers can be placed on one or more teeth, thus hiding chips, discolored spots, gaps, and other cosmetic imperfections from view.
With metal-free crowns, any damaged or badly decayed teeth can be repaired without compromising their appearance.
A cosmetic dental bonding procedure covers minor dental issues with natural-looking composite resin, making it a good option for quick, small improvements.
Many dentists offer both in-office and take-home whitening to brighten dull or stained teeth by multiple shades.
Every smile is different, so the cosmetic treatments that you or one of your loved ones might benefit from can vary. Be sure to think about the changes you want to make carefully before pursuing a specific treatment.
Why Cosmetic Dentistry Can Be the Perfect Graduation Gift
After graduation, you're likely to start looking for a job right away, which naturally means attending multiple job interviews. There are several factors to consider if you want to make the best possible first impression, but one of the biggest is the appearance of your smile, which is what many people will remember the most when meeting you for the first time.
It's easier to show off your grin with full confidence when you're no longer worried about people noticing stains and other flaws. Additionally, a great smile is a valuable asset in careers where you can expect to spend a lot of time interacting with others. In short, using cosmetic dentistry to bring out the best of your teeth could make all the difference when you're being considered for a job.
Are you interested in getting a cosmetic dental treatment for yourself or someone in your family as part of a graduation celebration? Get in touch with your dentist today to see what they recommend.
About the Author
Dr. Justin Geller has close to three decades of dental experience, and he has been leading JMG Dentistry Family and Cosmetic Care in Novi for more than 20 years. He is an expert when it comes to transforming his patients' smiles with veneers and other cosmetic dental services. To schedule a consultation with Dr. Geller, visit his website or call (248) 926-4030.